WHAT'S NEW ON THIS UPDATE: 28th of October 2016

After 16 years of search, finaly I have found my first Brazilian brochure from the first RD350LC '86 1YH model !!!
All scans on the 1YH page showing details and the optional full fairing.
New bigger picture of the first '86 RD350LC 1YH in Brazil out from the assembly line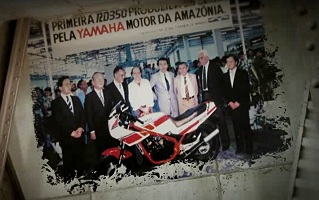 After 16 years of search, finaly I have found scans of a Brazilian brochure (from '91 RD350R twin headlight) !!!
Picture of the assembly line at the factory of Manaus in Brazil. YAMAHA MOTOR DA AMAZONIA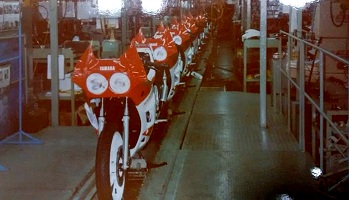 Update of the page Made in Brazil
'89 RD350 Export brochure from Brazil
New bigger picture
'93 full line Brazil
New picture of '86 1YH RD350LC from Brazil with optional fairing
'86 pré-série RD350LC 1YH from Brazil with different brake disks from serial production
'86 YAMAHA full line
'88 publicity from Brazil:
Translation of the upper text:

"You have two ways to buy the best motorcycle. You buy here a Yamaha RD350 fully national or go to Europe and buy a Yamaha RD350 imported from Brazil"

This model was exported to Spain & Italy and YAMAHA motor da Amazonia is clearly proud of it !
New '80 YAMAHA pipe DRAWING of RD250/350LC.
New page for part colors guide of RD250/350LC to help restoration.
Update of the page 250 or 350 ?
New page with links to Facebook pages
New RZ250 drawings
New RZ/RD350 drawing
YAMAHA publicity on 34 x 34cm cardboard for UK
New picture of the paint dot which identify new RD250/350LC pipes on the fixation bracket
New picture showing diffence between RD250LC & RD350LC pipe
New pictures at Yamaha Communication Plaza in Tokyo
New publicities from Germany
Previous update: 25th of April 2015
New page with assembly manuals.
New drawings
New publicities from Germany